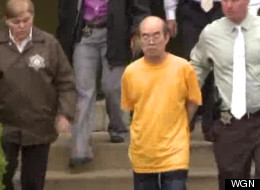 ©
July 21, 2012 | By Matthew Walberg, Chicago Tribune reporter
A Buddhist monk accused of sexually assaulting a teenage girl over two years at a southwest suburban temple lured her with the promise of work and later threatened her and paid her money to prevent her from reporting the alleged abuse, authorities said Friday.
Camnong Boa-Ubol, who authorities said impregnated the girl, was ordered held on $5 million bail at a hearing in the Cook County courthouse in Bridgeview. He is charged with aggravated criminal sexual assault.
Prosecutors said the assaults began in 1997 soon after Boa-Ubol and the girl met at a park near the Wat Dhammaram temple in unincorporated Stickney Township.
Boa-Ubol, 62, offered to pay the then-13-year-old victim to clean up around the temple, but he soon asked her to clean inside the temple, where he kissed her and later forced her to have sex with him, prosecutors said.
"The defendant gave the victim money and told her he would kill her father if she told or did not come back (to the temple)," Assistant State's Attorney Donna Norton said.
Norton said the abuse continued through 1999, until the victim became pregnant. She gave birth in January 2000, when she was 15.
The victim did not reveal any details about the alleged abuse at the temple until 2009. A 2010 DNA test found that there was 99.99 percent probability that Boa-Ubol was the father of the victim's child, authorities said. After Boa-Ubol learned of the DNA findings, he fled to Alaska from California, where he had lived for several years, authorities said.
A lawsuit filed by the alleged victim against Boa-Ubol is pending.
Last year, her story was part of a Tribune investigation of alleged sexual assaults at Buddhist temples. Members of Survivors Network of Those Abused by Priests encouraged her to press criminal charges against Boa-Ubol. She had declined to do so previously to maintain her child's privacy.
It was another seven months before investigators were able to track Boa-Ubol in Anchorage. He was arrested in May and extradited to Cook County on Thursday morning.